SA-441M Siren
The SA-441M takes warning sound performance to the next level by combining a classic Mechanical Tone and new Carson "Stutter" Air Horn with the power of an independent 2 channel, a 200-watt amplifier for maximum clearing output. The dual-tone feature of this siren incorporates our popular selection of siren tones and new Mechanical tone into alternating sweeps which gives the perception of 2 sirens operating at the same time. This shockwave of sound penetrates even the most sound-resistant vehicles on the road today.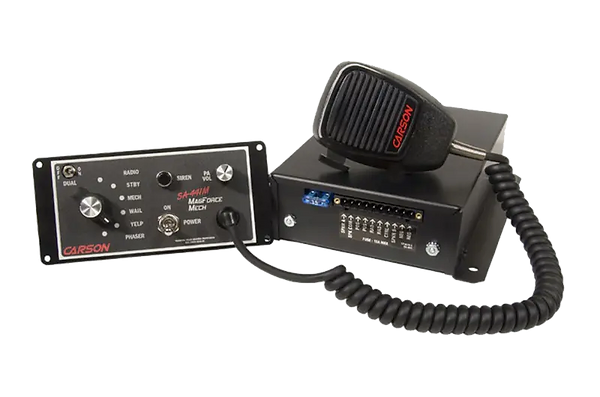 Dimensions
Control Head: 2-7/8″ H x 6-1/4″ W x 1″ D
Amplifier: 2-1/8″ H x 8″ W x 6-3/4″ D
Tones
"Stutter" Air Horn
Mechanical
Mechanical with "Stutter" Air Horn
Manual Mechanical
Wail
Manual Wail
Yelp
Phaser
HiLo/Two Tone
Dual Mechanical
Dual Manual Mechanical
Dual Manual Wail
Wail & Yelp
Mechanical & Yelp
Mechanical & Phaser
SA-441M Siren Manual and Specifications
The SA-441M Siren…The Fusion of Power and Sound
The features of this siren are easily selected at installation using an internal DIP switch. The SA-441M siren is designed to power two 100-watt siren speakers and includes external fusing, short circuit, high voltage and reverse polarity protection systems. A detachable wiring connector and optional mounting bracket for the PA microphone are also included. As with all Carson Sirens products, the SA-441M is backed by a no-hassle 5 year limited warranty.
200-watt electronic 2 channel siren amplifier delivers dual tone capabilities
Dual mode switch to select between single and dual tone modes
Single 22 AWG serial control data line connecting the control head and amplifier
14 different tone combinations using Mechanical, Wail, Yelp, Phaser, Manual and "Stutter" Air Horn tones with optional Two Tone
Six position rotary switch with a momentary push-button override
Carson Air Horn with replica "Stutter" sound
PA override with attached noise-canceling microphone and large PA volume control knob
LED backlighting
Horn Ring Cycler 2 (HRC2) for hands free siren tone control
DIP switch programmable
Externally fused
Short circuit, high voltage and reverse polarity protection systems
Detachable wiring connector
Mounting brackets for the PA microphone
No-hassle 5-year limited warranty
This product was formerly referred to as the SA-441M MagForce Mechanical Siren.